Added: 16 May 2023
Updated: 7 December 2023
Everyone of working age on the above benefits will have to move over to Universal Credit (UC) by the end of 2024/25, except for Employment and Support Allowance (ESA) claimants who will be moved over in around 2028/29.
The process is called a 'managed migration'.
You can choose to make a claim for UC sooner if you would be financially better off on UC. You would need to ensure that you get independent advice as once you move to UC you cannot move back onto legacy benefits. If you would not be better off, we would advise you to wait for your UC Migration Notice from the Department for Works and Pensions (DWP).
When you receive your UC Migration Notice letter from the DWP you need to act. You will have three months to make a claim for UC, at the end of the three months your legacy benefits will stop. You will need to consider within the three-month period when it would be the best time for you to make the claim to ensure you protect and maximise your income. Please seek advice to make sure you don't lose out on what you are entitled to.
Getting the right advice before changing to Universal Credit
You can call the Citizens Advice Bureau (CAB) Help to Claim Advisors on 0800 144 8 444. The CAB Help to Claim phone service is free to use and is open 8am to 6pm, Mon to Fri.
You can read a step-by-step guide about UC migration from Citizens Advice here
Guidance for people who have received a Migration Notice from gov.uk
Information from DWP gov.uk - Tax credits are ending - Understanding Universal Credit
You can also contact the DWP UC Migration National Helpline on 0800 169 0328.
Help from Torus:
If you are still unsure and would like to talk to us, contact our Income Services Team or Torus Foundation and they will be able to offer you advice about making a UC claim, or they offer you a referral to the Citizen's Advice.
Find out more and get in touch
Torus customer, you can access free benefits support from Citizens Advice. Contact them directly on 0808 279 7840. They are taking enquiries from Torus customers across all areas, so make sure they know you're with Torus.
Nationally, organisations that support people often have helplines that may be able to offer support and advice, for example CarersUK, Working families and Money Helper says 'If you're on Universal Credit or think you might be using it in the future, our Money Manager tool can help guide you'.
Some people/households will be better off when you move across, but some people will not. Be sure to get advice before you switch as you cannot go back once you have moved across.
If you are working and not in receipt of any Universal Credit, but are unsure if you would qualify, the table below gives a few examples of different family circumstances and the levels at which you would still qualify for Universal Credit: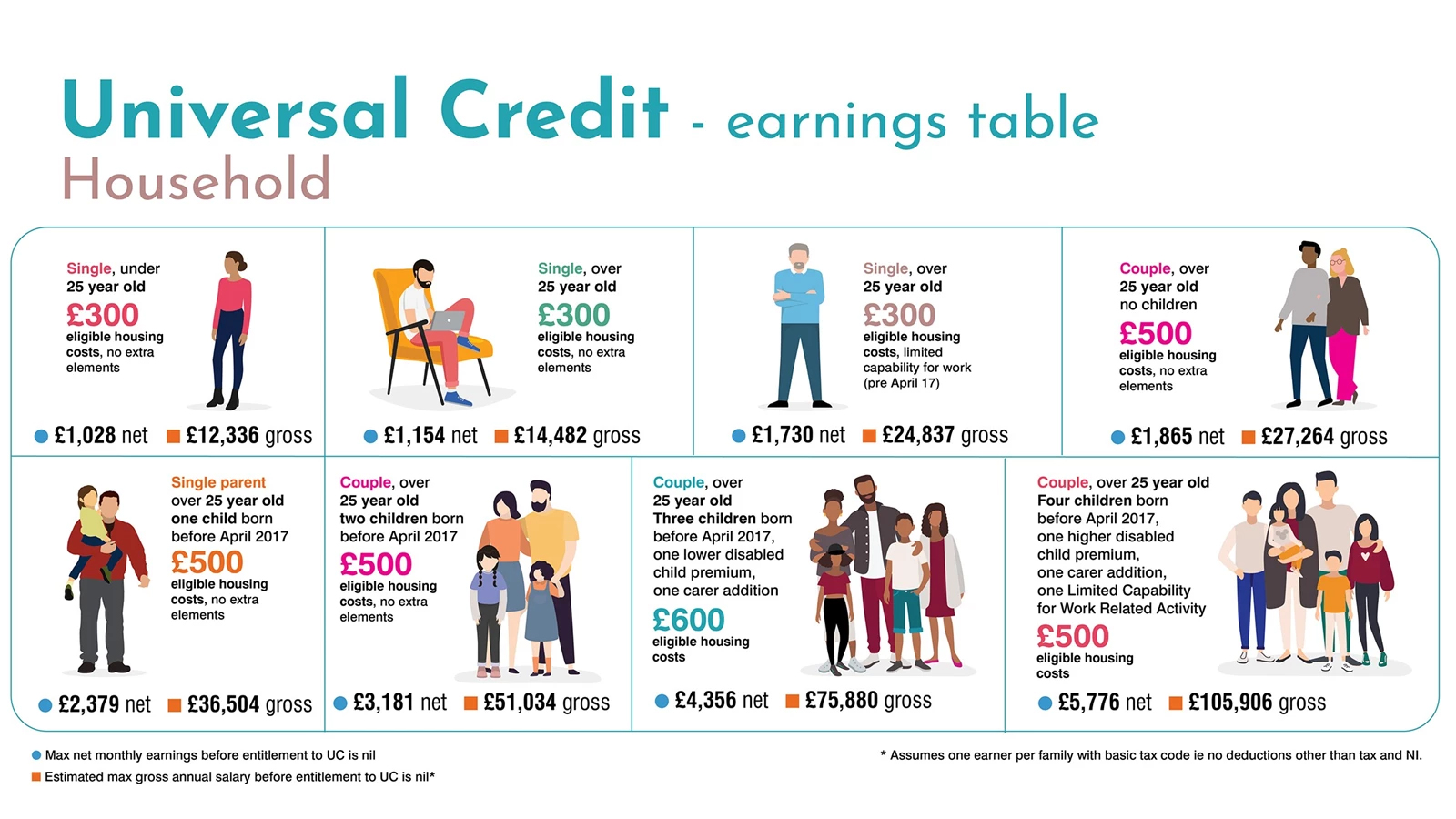 You can also try a Benefits Calculator to help you figure out what you may be entitled to.
You can also prepare for this switch by making sure that you have the following readily available when you apply online:
your bank, building society or credit union account details
an email address
access to a phone
If you are claiming tax credits and are aged 65 or over, the DWP will write to you to ask you to apply for Universal Credit or Pension Credit, depending on your circumstances.